The history of our studio on the corner of Onderdonk Avenue and Forts Ferry Road in Latham, New York goes back over 300 years ago to when John Fort purchased a large piece of land from the Mohogg Natives in the year 1700. In the late 1800s, the Onderdonk family purchased land, possibly from the descendants of Jean Forte, which is believed to contain the building that is now our studio. Once purchased, the Onderdonk family performed significant upgrades including raising the roof to make the second story a full height living area and the house has really never stopped being under construction to this day.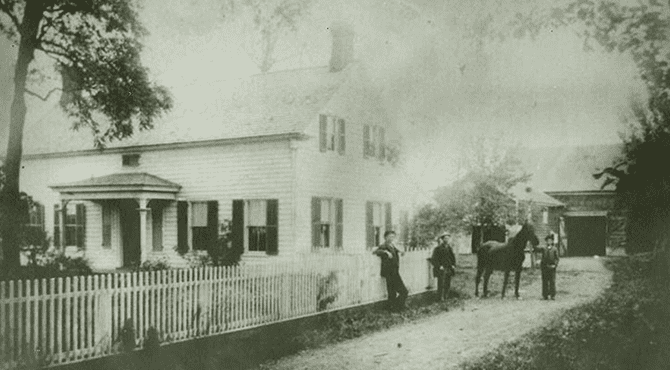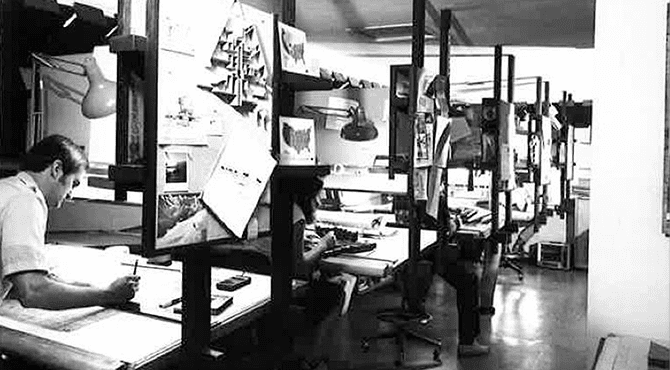 In 1954, our company's founder, Robert Louis Trudeau, bought the house while it was in a state of disrepair. The Onderdonks assumed that he would demolish the building and rebuild, but Robert was able to salvage and repair the main residence instead. Robert was able to see the potential in what was at the time a very typical home. After the residence was upgraded, Robert would continue to perform ongoing design projects including turning the second story into offices for his architecture practice, adding large additions to both the residence and the office, and designing and building an eye-catching bridge that spans over a breezeway into what is now known as the model room.
Robert's design projects kept going well into his retirement in 1992 when his son, Bart became the principal of the architecture practice. In 2014 Bart purchased the building and the property from his father and continued the process of restoring, upgrading, and re-designing parts of the house and the landscape. Bart focused his efforts first on re-designing the entire interior of the first-floor residence. In recent years, with help from his team of designers at Trudeau Architects, he has transformed the office space on the second story. Each design project is seen as an opportunity to test the possibilities of materials while staying true to the original pallet of concrete, steel, glass, copper, stone, and wood.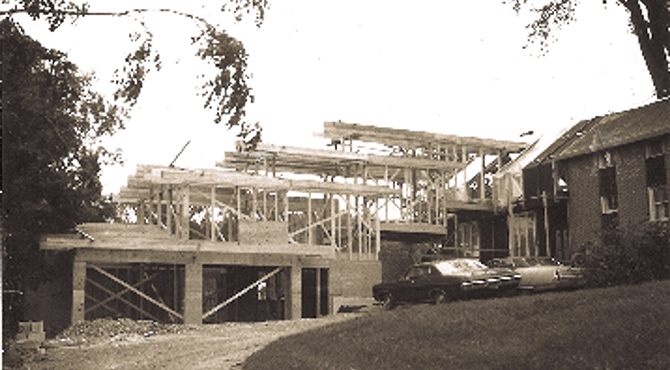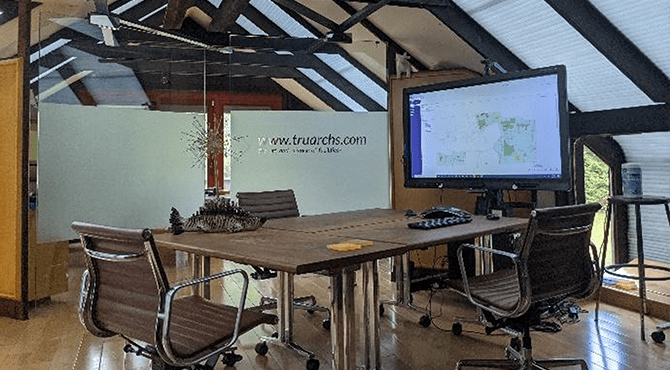 In the past few years Bart has spent significant time transforming the eight+ acres of land that the studio sits on. This ongoing endeavor has already produced major changes to the landscape including four new ponds that flow into each other and constant grading and regrading of the land that has resulted in a whimsical feel to the paths and water features that wind through the woods. For the last 30 years Bart and his team has worked on building Trudeau Associates to the successful business it is today, all while continuing the tradition of constant design and construction to our modest office in Latham, New York.